Welcome to The JADE Foundation
---
Hawken Football Golf Outing to Benefit The JADE Foundation:
Please join Cliff Walton as well as other Hawken football coaches, alums, parents, families and friends for the second annual golf outing on Sunday, June 25 at Fowler's Mill Golf Course at 1:00 p.m. See registration form for details. Mail the form with your check payable to The JADE Foundation.
Be sure to fill out the registration form for the fundraiser!
---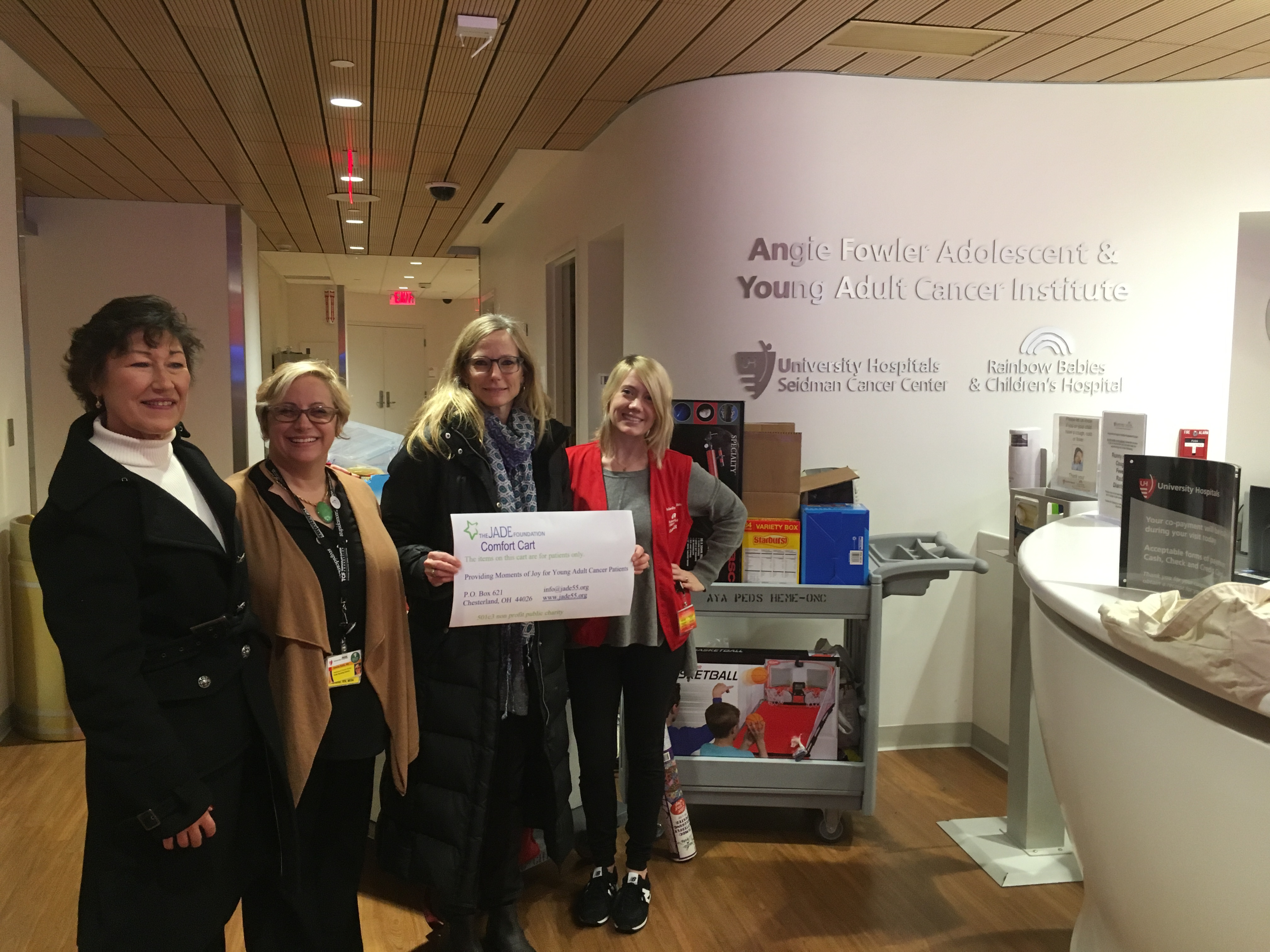 We are very excited to announce that on January 4, 2017, we launched The JADE Foundation comfort cart at the Angie Fowler Adolescent & Young Adult Cancer Institute at Rainbow Babies & Children's Hospital Seidman Cancer Center, University Hospitals. Pictured in the photo left to right: JADE Foundation Founder Bobbie Dobay, UH AYA Advanced Clinical Nurse Amelia Baffa, JADE Foundation Chair Polly Marabito and UH AYA volunteer Lyndsey Needham.
---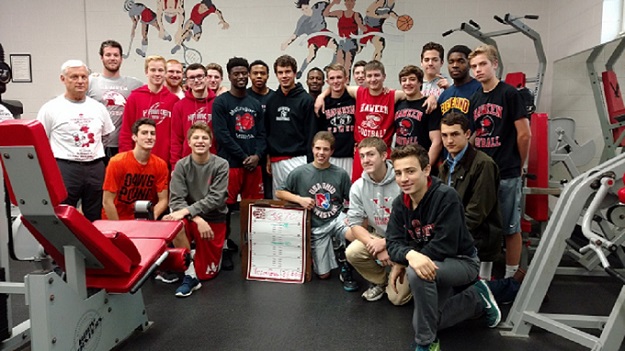 Thank you to the 2016 Hawken Football team for conducting its 3rd annual Lift-A-Thon to benefit the JADE Foundation. They bench pressed a total of 36,705 pounds! Donations are still being accepted. The Lift-A-Thon honors the memory of Alex Dobay #55 and Josh Weil #15.
---
JADE Foundation Golf Outing
The JADE Foundation held its first golf outing on Sunday, June 26 at Fowler's Mill Golf Course. 58 golfers participated, and we raised over $4,200. Thank you to everyone who attended the event, and a special thanks to our hole sponsors:
Burton Scot Contractors
Cedar Creek Grille
Chesterland Floral
Guido's Pizzeria & Restaurant
Hawken Basketball, Softball & Baseball
Kokosing Materials, Inc.
Rick & Polly Marabito
Lawrence School and the Miller Family
Mulberry Creek Greenhouse
David & Phyllis Paulitsch
Scot, Emily, Elise, Wade & Henry Paulitsch
Stewart Roulston '06 and Laurie Laidlaw Roulston
Sprouse Insurance / Securance
Mike Stefanek Family
Stilson Video Services
TRAX Construction Company
---
Thank you to all who have donated to the JADE Foundation in memory of Josh Weil.
Our Mission
The JADE Foundation is dedicated to enhancing the quality of life for young adult cancer patients. By providing entertainment for those undergoing treatment, the Foundation offers pleasurable distractions from the emotional and physical effects of cancer.

The JADE Foundation honors the memory of Alex Dobay, a Burton, Ohio resident and Hawken School graduate, who, after bravely battling cancer for several years, succumbed to the illness at the age of 19.
Learn more about the programs The Jade Foundation is working to develop, and get involved.
---
JADE is an Official 501c3
JADE is an official 501c3, a non profit public charity, officially tax-exempt, and all donations are officially tax deductible. The status was granted because of our work which is viewed as supportive of medical hospitals.
---
Get Involved — Make a Donation
Donations are currently being accepted online via PayPal. Please complete the form below to make a donation to The JADE Foundation